TRIVIA TIDBITS
Within these articles you will find some fun facts about the subjects for my
short stories and links that will help fans learn more about specific fields of interest.
Article One:
Fun Facts about the story, 'A Morning to Meander'.

When you're done reading this article, I cannot guarantee you will be qualified to start your own farm; however you will definitely want to own a pair of overalls!

What do you think about Tractors? We all know what one is. It's part of the American culture to have a profound respect for farmers and what they do. In the story 'A Morning to Meander' the main character, a retired farmer, has a problem; his International brand Farmall M series tractor is broken. Jeff Foxworthy once said, 'That's the great thing about a tractor. You can't really hear the phone ring.'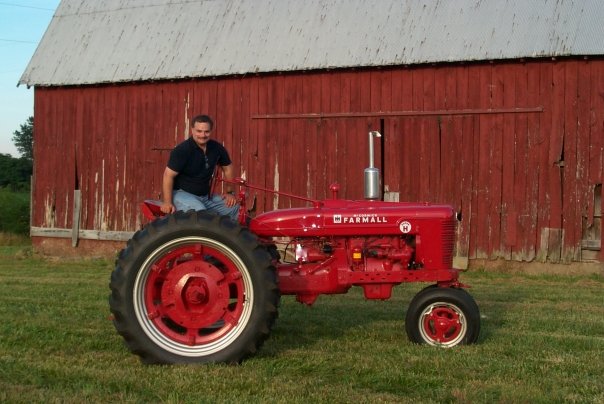 Broadcaster Max Armstron with his Super H

Many of us would like to escape to a less technological world, but must be content with reading stories about that kind of life. The Wikipedia definition of a Farmall is as follows:

"Farmall was a model name and later a brand name for tractors manufactured by the American company International Harvester (IH). The Farmall name was usually presented as McCormick-Deering Farmall and later McCormick Farmall in the evolving brand architecture of IH.

Farmalls were general-purpose tractors... Most Farmalls were all-purpose tractors that were affordable for small to medium-sized family farms and could do enough of the tasks needed on the farm that the need for hired hands was reduced and the need for horses or mules was eliminated. Thus Farmall was a prominent brand in the 20th-century trend toward the mechanization of agriculture in the US. The original Farmall was the first tractor to combine a set of traits that would define the row-crop tractor category. Although it was not the first tractor to have any one of these traits, it was the first to bring the winning combination to market."

For true fans of Farmall, here are some other sites of interest that you might enjoy viewing:
antiquefarming.com - a website that discusses a host of things including Farmall tractors.
farmallcub.com - a gathering place for Farmall enthusiasts
Farmall tractor forum - redpowermagazine.com
Article discussing the H line: farmalltractors.org

Favorite link on this same site is the videos: http://www.farmalltractors.org/farmalltube , here you can see a little 8 year old girl driving one.

In his book, 'Folks, This Ain't Normal: A Farmer's Advice for Happier Hens, Healthier People, and a Better World.'
Author and farmer Joel Salatin says, "The first supermarket supposedly appeared on the American landscape in 1946. That is not very long ago. Until then, where was all the food? Dear folks, the food was in homes, gardens, local fields, and forests. It was near kitchens, near tables, near bedsides. It was in the pantry, the cellar, the backyard."

So let's get back to our roots folks. For those of us not so knowledgeable about farming, let's get some stats:
The number of farms in the U.S. stands at about 2.2 million.



What is a farm?

For the purposes of the U.S. Census, a farm is any establishment which produced and sold, or normally would have produced and sold, $1,000 or more of agricultural products during the year. (Government subsidies are included in sales.) By that definition, there are just over 2.2 million farms in the United States.

According to the 2007 Census of Agriculture, the vast majority of farms in this country (87%) are owned and operated by individuals or families. The next largest category of ownership is partnerships (8%). The "Corporate" farms account for only 4% of U.S. farms and 1 percent are owned by other-cooperative, estates or trusts etc. However, the term "family farm" does not necessarily equate with "small farm"; nor does a "corporate farm" necessarily mean a large-scale operation owned and operated by a multi-national corporation. Many of the country's largest agricultural enterprises are family owned. Likewise, many farm families have formed modest-sized corporations to take advantage of legal and accounting benefits of that type of business enterprise.

How have times changes?

In 1935, the number of farms in the United States peaked at 6.8 million as the population edged over 127 million citizens. As the number of farmers has declined, the demand for agricultural products has increased. This increased demand has been met (and exceeded) with the aid of large-scale mechanization (the use of large, productive pieces of farm equipment), improved crop varieties, commercial fertilizers, and pesticides. The need for human labor has also declined as evidenced by the increase in agricultural labor efficiency over the past century – from 27.5 acres/worker in 1890 to 740 acres/worker in 1990 (Illinois data; Hunt, 2001).

As the U.S. farm population has dwindled, the average age of farmers continues to rise. In fact, about sixty percent of the farmers in this country are 55 years old or older (Bureau of Labor Statistics). The average age of a principal operator of a farm has increased from 54 years old in 1997 to 57 years old in 2007. (USDA, 2007 Census of Agriculture). The percentage of principle farm operators 65 years or older has increased almost 10 percent since 1969, as shown in the graphic to the right. The graying of the farm population has led to concerns about the long-term health of family farms as an American institution.
This information was taken from: http://www.epa.gov/oecaagct/ag101/demographics.htmlFor those of us who are serious about starting a farm here is a great website from a place that we lived and inspired me to write A Morning to Meander: www.extension.iastate.edu/bfc/

While my grandfather had a small working farm in Cooksville, Tenn. that housed cows, chickens, and produce, most of my inspiration came from the time we spent in the Des Moines, Iowa area. Although Des Moines, Iowa is a big city, one doesn't have to go very far to find a farming community. We actually lived in Ames, Iowa. The commute from Ames to Des Moines was filled with a variety of different fields from soy beans to corn. It was at a farm south of Des Moines that we bailed hay for our first time. One of our friends, who we knew from our work in the sign language field, was a pig farmer. Another friend's brother had a llama farm. One of the variety of jobs my husband and I had while in Iowa was cleaning a facility that made special carriers for pig transport. The aspects to farming life that can be seen in the fields of Iowa are endless.

One of the things that are highlighted in 'A Morning to Meander' is the food that Fred will miss when he has to begin watching his blood pressure. Down home country cooking is something that can still be found in places all throughout the Midwest. For a link to one of our favorite restaurants that is a tribute to the life of the American farmer see the link: www.machineshed.com

For those of us who are serious about starting our own farm, here is a website I found that had some helpful and hopeful tips: smithmeadows.com/farm/how-to-start-your-own-farm/

My personal favorite was number #8 which encouraged us to read, question and comment. I also encourage that for my articles, so if you would like to share some of your comments below, I would be grateful. The one thing that I think I could have improved on in my story is the description of the farm animals, particularly Bessie the milk cow. And so I will leave this article with some photos of some of my favorite farm animals.